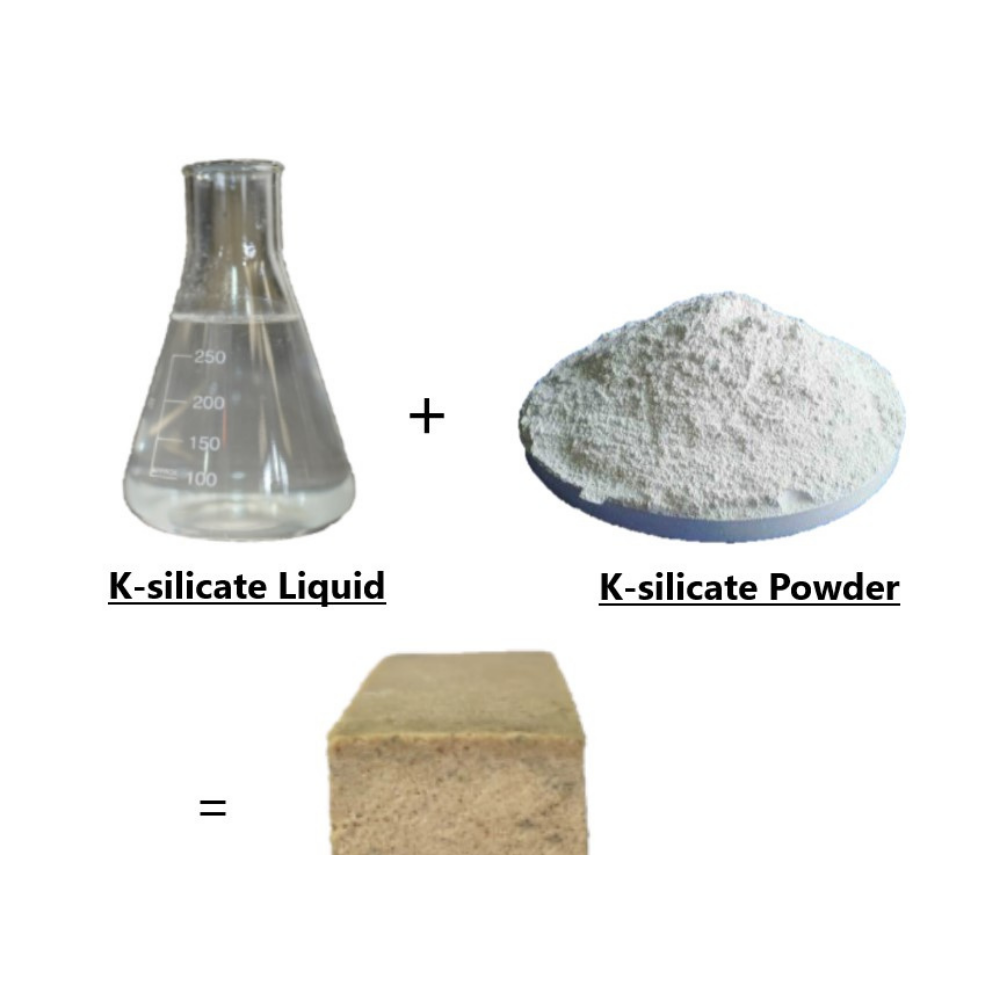 K-silicate Mortar is specially formulated for Acid resistant bricks constriction. Specially for Anti Acid Lining in chemical conditions, as per IS:4832 Part 1, 1969.

Field Of Application
K-SILICATE MORTAR is recommended for Bricking in Tank, Floors, Vessel, Receivers, storage tanks, Sumps and Trenches requiring the chemical, physical resistance of brick construction. The K-Silicate Cements is having temperature resistance upto 1100°C K-SILICATE MORTAR is ideal for the chemical processing industries, Sulphuric Acid plants, Fertilisers, & Food, & Floor lining.
Chemical Resistance
Globe K-SILICATE MORTAR is resistant to organic acid, solvent, oils, greases and salts. It is also resistant to many inorganic acids and alkalis with lower concentrations. K-SILICATE MORTAR complies with the specifications of ASTM / IS for chemicals resistant furan resin mortars.

Properties
High chemicals resistance, particularly to acids, alkalies and certain solvents, for lower attack.
High temperature resistance up to 1100°C

Long shelf life even at higher temperature. Approx. 24 Months.



High Mechanical strength.
Available Colours
Globe K-SILICATE MORTAR is available in Whitish brown.

Packaging
| Sr. No. | Description | Packing |
| --- | --- | --- |
| 1 | K-silicate solution | 250/100/50/25 Kgs. Barrel |
| 2 | K-silicate cement powder | 25 /50 kgs. Bags |
Temperature During Application
Store K-SILICATE MORTAR at (25°C) to (27°C) for 24 hours prior to use. The best working characteristics of the materials will be attained when the temperature of the substrate, air, masonry units and K-SILICATE MORTAR components are between (25°C) and (29°C). Minimum temperature for installation is (22-250C) If temperatures fall below 220C then additional catalyst is provided depending upon temperature. Lower the temperature more the quality of catalyst is required.
Physical & Chemical Specification
| Specifications | Units | Potassium Silicate Type |
| --- | --- | --- |
| Working Time at 27oC (Mins) | Minutes | 30-35 |
| Compressive Strength | MPa | 45 |
| Flexural strength | MPa | 15-20 |
| Bond Strength | MPa | 0.6-0.7 |
| Absorption of toluene max %by weight | % | 15 Max. |
| Density of mortar | Gms/cc | 2.1-2.2 |
| Water Absorption | % | 6 max. |
| Acid Solubility (Loss of weight) | % | Less than 1.5% |
| Ratio of powder to soution | | 3:1 |
Mixing Of The K-Silicate Mortar
Mixing of the components should be with mixer with 5 kg. mortar capacity. The mixing speed should be between 50-60 RPM. Stir the content of the resin container prior to blending. The amount of the poser may be carried slightly to obtain the desired consistency. Proportionally increase or decrease component as per batch size requirement. Mixing of material may be possible manually into the metal pot container as per required quantity to be used for lining purpose. A thick white gravy solution will be recommended for lining with ratio 2.5:1 (Powder to liquid)

Pot Life
| Temperature | Globe Carbon Mortar |
| --- | --- |
| 27°C | Approx. 45 Mins. |
Consumption
Bedding and jointing (Bedding 5-7mm / jointing 3-4 mm)
| Material | Dimensions | Consumption |
| --- | --- | --- |
| Tiles | 230x115x20 | Apprx. 15 kg. /m2 |
| Bricks | 230x115x38 | Apprx. 20 kg. /m2 |
| Bricks | 230x115x65 | Apprx. 25 kg. /m2 |
| Bricks | 230x115x80 | Apprx. 28 kg. /m2 |
Safety
Adequate ventilation is to be provided while work is in progress. Ventilation is compulsory for all work carried out in pits and closed rooms. All vapours that are produced while work is in progress must be continuously suctioned off at floor or bottom level. Mostly the mixing of mortar is to be carried out at open surface. Only the amount of material effectively required to continue work is to be stored at working place the instruction for the prevention of fire and explosion are to be observed, if required. Please note and ensure that even the smallest quantities of the individual components and/or pre-pared mixtures are not allowed to reach the sewerage. All regulation for the prevention of accidents prescribed at the site of application & surface treatment in rooms and tanks, as well as the safety precautions listed on the packing (label) required by the provisions of the Hazardous Materials ordinance shall be adhered to