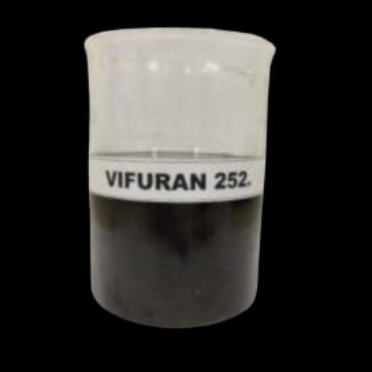 Globe Carbon Industries are manufacturing Furan Resins as per IS & As TM standard.
Furan resins are usually used in heat curing thermosets, either in combination with urea-formaldehyde resin and phenol formaldehyde resins or with furfuryl alcohol and it is polymerized products of FurFuryl Alcohol.

Application
The principal applications of furan resins are in chemical plants. Specific uses include the lining in tanks Reactors, Receivers Acid and piping and acid alkali-resistant tiles and brick cements. The property of moisture resistance is used when paper honeycomb structures are treated with furan resins and subsequently retain a good compression strength and it can exposure to damp conditions.
Laminates have been prepared for the manufacture of chemical plants. They have better heat and chemical resistance than the polyester- epoxy- phenolic- or amino plastic-based laminates.
Another most popular application of Furan Resin is in Foundry Industry in Steel manufacturing for making cores.
Specifications
| Sr. No. | VIFURAN Resin | Viscosity | Solid content | PH | Furfuryal Alcohol | Free Phenol | Free Formaldehyde | Nitrogen Content | Shelf Life | Application |
| --- | --- | --- | --- | --- | --- | --- | --- | --- | --- | --- |
| 1 | VIFURAN 250 | 30 - 35 secs. | 50 - 58 % | 6 - 7 | 50% | Nil | < 0.2 % | < 1.5 % | 365 Days | Linning Additive for carbon and Graphite Brick |
| 2 | VIFURAN 252 | 16 - 24 secs. | 45 - 62 % | 6.5 - 7.5 | 50% | 0.3 - 0.5 % | 0.7 - 1 % | Nil | 180 Days | Foundry Industries for core making |
| 3 | VIFURAN 254 | 15 - 25 secs. | 45 - 60 % | 6 - 7 | 90% | 0.2 - 0.5 % | 0.50% | 0.60% | 180 Days | Foundry Industries for core making |
| 4 | VIFURAN 256 | 15 - 20 Secs. | 45 - 60 % | 6 - 7 | 50% | Nil | < 0.5 % | 1% | 180 Days | Foundry Industries for core making |
| 5 | VIFURAN 258 | 16 - 22 secs. | 45 - 58 % | 6.5 - 7.5 | 75% | 0.10% | < 0.4 % | 0.10% | 180 Days | Foundry Industries for core making |
| 6 | VIFURAN 260 | 15 - 20 secs. | 45 - 54 % | 6 - 7 | 70% | 0.3 - 0.5 % | < 0.4 % | 0.50% | 180 Days | Foundry Industries for core making |
| 7 | VIFURAN 262 | 15 - 23 secs. | 45 - 55 % | 6 - 7 | 75% | 0.2 - 0.4 % | < 0.5 % | Nil | 180 Days | Foundry Industries for core making |
| 8 | VIFURAN 264 | 15 - 25 secs. | 45 - 56 % | 6.5 - 7.5 | 50% | 0.3 - 0.4 % | < 0.4 % | 1% | 180 Days | Foundry Industries for core making |
| 9 | VIFURAN 266 | 16 - 25 secs. | 45 - 55 % | 6 - 7 | 75% | 0.2 - 0.5 % | < 0.3 % | 0.30% | 180 Days | Foundry Industries for core making |
| 10 | VIFURAN 268 | 15 - 24 secs. | 45 - 60 % | 6.5 - 7.5 | 70% | 0.3 - 0.5 % | < 0.4 % | 3.50% | 180 Days | Foundry Industries for core making |
| 11 | VIFURAN 270 | 16 - 25 secs. | 45 - 58 % | 6 - 7 | 40% | 0.2 - 0.5 % | < 0.5 % | Nil | 180 Days | Foundry Industries for core making |
| 12 | VIFURAN 272 | 15 - 25 secs. | 45 - 56 % | 6 - 7 | 50% | 0.2 - 0.5 % | < 0.4 % | 0.30% | 180 Days | Foundry Industries for core making |
VICATLYST for Furan Resin Hardners
Sr. No.
Grade
Characteristic
1
VICATLYST 401
Fast Setting
2
VICATLYST 403
Medium setting
3
VICATLYST 405
Slow Setting