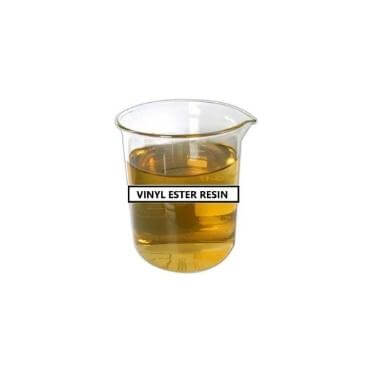 Globe Carbon Ind. Manufacture Vinyl Ester Resin as per IS standard.
Vinyl Ester Resin based on Bisphenol-A Epoxy backbone combined with methacrylic Acid, thereby imparting excellent thermal and mechanical properties of epoxy resins with the ease of processing and rapid curing of polyester resins. It is recommended for use in the manufacture of FRP components employing the methods of Filament winding, Hand Lay-up. Centrifugal casting, Bag Moulding or Pultrusion.
High temperature resistance, extremely good chemical and corrosion resistance, low shrinkage, better adhesion and higher tensile elongation.
Vinyl ester resin the unsaturation is terminal; thereby attributing to the exceptionally reactive carbon-carbon double bonds. Therefore they cure rapidly, consistently and completely to give fast green strength and superior creep resistance. A combination of low viscosity and high molecular weight and a unique chemical structure results in a high corrosion resistance, crack resistant cross linked thermoset Product

Areas of Application
vinyl ester resin has outstanding resistance to corrosion and stress cracking. Applications are drainage pipe, chemical processing and storage in pulp and paper, pulp washing. effluent discharge, mining, refining, fertilizer, chemical and food processing industries, Vinyl ester resins are substantially less brittle than polyester resins. It is reflected in tensile elongation which is around 4-5% when compared with that of corrosion resistant polyester resins (about 1-1.5%) Vinyl ester resin proved themselves effective against corrosion by Hydrochloric acid, Chlorinated brine, NaOH, Sodium sulphide, Caustic soda, Chlorine plant residues. Ferric chloride etc. FRP components based on vinyl ester resin may replace conventional linings and pipe work material such as glass, special alloys, Stainless steel and Rubber because they resist a wide range of chemicals and are easy to handle. install and maintain. Vinyl ester resins are less brittle than glass, lighter and cheaper than stainless steel and tougher than corrosion resistant polyesters

Specifications
Sr. No.
Specification
Unit
Result
1
Appearance
-
Pale Yellow Clear Liquid
2
Acid Value
Mg/KOH
5-10
3
Viscosity 25°C
CPS
200-400
4
Voltatile Content
%
35-50
5
Specific Gravity
gms/cc
1.05/1.07
6

Gel Time

1.5% Acc. + 1.5% Catalyst + 1.5% Promotor

Min
15-25