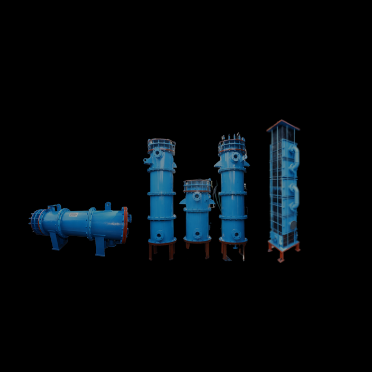 Graphite Condensors/Coolers/Reboilers/Evaporators
Globe Carbon Industries are manufactures of Graphite Heat Exchangers are the most advanced design of Cylindrical & Rectangular Poly Block type Heat Exchangers in Vertical & Horizontal Position as per design code TEMA SEC'C', ASME 8, DIV 1. Heat Exchanger construction basically done by modified Phenol / PTFE Impervious Graphite Block of standard size & shape.
The Graphite Block design incorporates a set of axial holes & transverse holes. Axial holes carry process fluid & Transverse holes carry service fluid. A number of effectively sealed passes both on process side & service side can be provided to qet optimum fluid velocities to achieve best heat transfer coefficient.
Areas Of Application
To transfer the heat between two corrosive liquids / To cool down the various corrosive Liquids(Graphite Cooler).
Condensation of corrosive vapours. (Graphite Condenser).
Heating of corrosive liquids. (Pre-Heater / Boiler).
Pickling line heaters in M.S. industries for heating HCL & combination of HNO3, & HF in SS Plant (Pre-Boiler).
Falling Film Evaporators. (To Evaporate the water from solutions)

HCL Falling Film Absorbers. (HCL gas recovery)



Sulphuric Acid Dilution System.( To dilute Sulphuric Acid)
Salient Features
Available in vertical or Horizontal model as per customer requirements.
High efficiency of Heat Transfer Area.

Highly resistant to Corrosion; Thermal Shock; & Abrasion Resistance .

Due to modern design, most compact utilization of floor space & height.

Higher capacity HTA can be increased to the existing unit is possible.
Sizes
Cylindrical - Graphite Block Dia. 300, 335, 427, 598. 700 &750 Capacity - 1 M² to 90M²

Rectangular - 200*200, 300*300, 400*400, 500*500 Capacity-

1M² to 50M²
Shell & Tube: Pipe Size 25*16, 32*22, 38*51 Capacity - 5M² to 200M²
SPECIFICATIONS GRAPHITE HEAT EXCHANGER
Specifications

Units
Results

Bulk Density


gm/cc
1.85 to 1.92
Porosity
%
<1.0
Water Absorption
%
<0.5
Compressive Strength

kg/cm²
450-550
Flexural Strength

kg/cm²

200
Abrasion Resistivity

cm³

<15

(thk. Reduction 1.07 mm minimum)

Thermal Conductivity

Kcal/m.hr °C
120
Chemical Resistivity

-
Excellent chemical resistance of all conc. of Acids, Alkalis, Mixtures, Solvents up to 180°C

Type of Graphite

-
Isostatic Electrode Grade impregnated under Vacuum & Pressure

Grain Size of Graphite

-
Maximum 0.5 mm

Type of Impregnation

-
Modified Phenolic Resin / PTFE Resin Impregnation