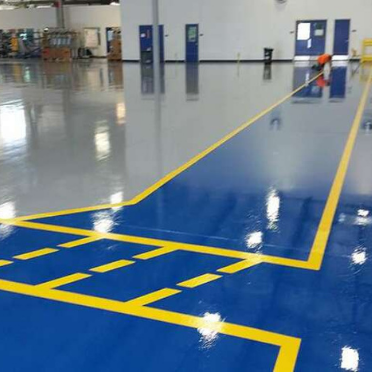 Globe Epoxy (Anticorrosive Layer) Co-Polymer Resin based material for jointless Monolithic Screeding.
GLOBE CARBON INDUSTRIES, has committed to provide all types of Anti-Corrosive Treatment Solutions in various chemical conditions. After plenty of research and study of various corrosion problems in different chemical applications areas or process, we have specially developed "Globe Epoxy" Anti-Corrosive Protecting Layer for Battery Room, Metal or Concrete floor of various Acidic / Alkalies / Solvent Condition areas, Metal frames equipments Columns, Beams, Foundations, Acid Pits, Cooling Tower areas & Structure Concrete or Metal base where corrosive area, like near to Reactor and Digester or Chemicals Storage Areas, D.M. Water Plant etc., it is Three part material i. e. Mortar (Carbon Base or Silica Base as per Chemical conditions) + Globe Epoxy Resin + Hardner.
Since GLOBEFURATHENE is resistant to most acids/alkalies, oils, greased, salts, solvents etc. It is ideal for use in most of the industries where corrosion is to be prevented. With outstanding corrosion protection qualities & high bond strength of the product therefore in a broad range of applications Globe Epoxy's is only source. Globe Epoxy's superior resistance quality to various corrosion chemicals makes it the most ideal choice as compared to all other corrosion resistive cements. Because of its maximum compressive & flexural strength and negligible water absorption property, Globe Epoxy's is highly recommended for floors, drains and vertical walls subject to excessive physical and thermal shocks. It will also replace the length procedure of conventional Acid Proof Bricks lining as well as Carbon Bricks Lining.
Due to the above properties, Globe Epoxy system provides long term performance thereby saving the time as well as periodical maintenance cost. Globe Epoxy system coupled with good engineering techniques and quality installation methods, becomes an attractive option, which sets the standards in plant floors of any industry.
Globe Epoxy floors are easy to install with trained technicians. The concretefloors/foundations/drains etc. Where the Globe Epoxy floors are to be made, must be absolutely strong, having slopes around 2' - 5' and clean & dry.
Preparation
The mortar is easily prepared by mixing together Globe Epoxy powder and Globe Epoxy liquid resin to form a workable mix. The usual mixing ratio is by weight. Mixing Ratio : 0.9 parts Resin : O.I part Hardener : 5 parts Powder. But this mixing proportion may vary slightly depending upon the temperature and working conditions.
It is screeding job through trowel. The Globe Epoxy is also available as per choice colour viz. Grey, Green, Yellow, Red etc. (Carbon base only Black Colour)
Installation Process
Surface preparation is done before applying primer solution. Over the cleaned dry concrete surface Globe Epoxy primer is to be applied by brush application. When the primer is still tacky, Globe Epoxy mortar is applied using masons trowel and uniform by masons steel float to the required thickness and finished smoothly. The initial set time will be usually 5-6 hours and final setting and full strength will be obtained after 6 days. After Screeding mortar, the Sealcoat is applied to seal micro pin holes and glossy impact for zero porosity.
The floor is ready for use after 7 days.
Shelf Life
18 months. (For al1 3 materials)

Storing
When stored in its original containers in a cool and dry condition at room temperature under shade.

Service
The GLOBE CARBON INDUSTRIES Technical Team is maintained to provide you with assistance and advice on any problem of acid or alkali proof construction. Write to us about your service conditions to obtain prompt recommendations and design suggestions. We will be more than glad to be at your assistance.
*Also different types of shades in Red, Yellow, Blue & Green are available as per customer needs.