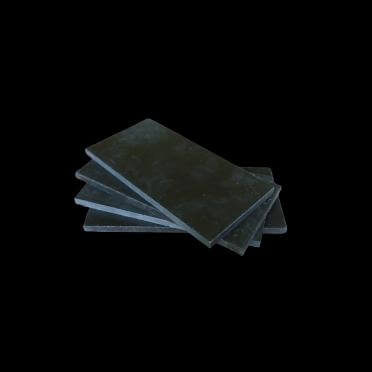 GLOBE CARBON INDUSTRIES, specializes in the manufacturing of Graphite Tiles & Bold (Conforming as per DIN Standard) especially developed for high corrosion resistance against all acids & also suitable for alkalies, excellent resistance to thermal shocks, high crushing strength, improved mechanical properties & it withstands temperature upto 180°C. Having low Porosity 1 % & average Graphite content 99% min and Low Ash upto 1% max. It is mould manufactured product thus having very good dimensional accuracy +/- 1mm. The graphite Titles/Bricks is having very good thermal conductivity hence it is used mainly for heat transfer areas along with chemicals compatibility.

Usage Area
Lining in any chemical reactors

Hydrofluoric Acid Plant (HF) & Flurosilicis Acid Plant.




All Chemicals Industries (Highly Corrosive Areas).



Fertilizers & Dyes Industries.

H2SO4, HCL, Fluorides, Chlorides & Alkalies.



Caustic soda scrubbing tower.
Storage & Shelf Life
Globe made Graphite tiles are to be stored in the original packing under shade, away from heat , fire , moisture& having unlimited shelf life if not absorbed any liquids & rainwater etc.

Handling Precautions
While lifting & handling the tiles care should be taken that the corners/edges do not cut/ damage hands.

Specifications
Specifications
Units
Results


Density
gms/cc
1.8 – 1.9 gms/CC


Comp. Strength
MPa
650-700 kg/cm2 Avg.


Flexural Strength
MPa
250-300 kg/cm2 Avg.


Porosity
%
1% Max.


Water Absorption
%
0.5% Max.


Abrasion Resistivity

cm

3



Abrasion Loss < 15 (Thickness Reduction <1.07 mm)


Graphite Content
%
99 % Min.


Thermal Conductivity
w/mk
120


Ash Content
%
1


Temp. Resistivity
°c

Upto 180°c


Chemical Compatibility
%
Suitable for all acids/minor alkalis/solvent and mixtures.


Standard Sizes of Graphite Tiles for Reactor Lining
| | | |
| --- | --- | --- |
| Sr. No. | Sizes in mm | Area of Use |
| 1 | 230x115x10 | On big shelf area |
| 2 | 115x115x10 | At bottom area |
| 3 | 230x55x10 | On Shelf Area |
| 4 | 115x75x10 | On Small Curvature Area |
Warranty
We offered best specifications in our bricks which increase its life throughout but since the method and place of application of the products are beyond its control, its guarantee is therefore limited to the quality of materials delivered.
We can offer the Guarantee/warranty period of 18 months from the date of commissioning of any equipment against any mechanical damages & wear tear & mortar due to chemical attack.